We issued our Budget Snapshot – Autumn 2017 shortly after the Chancellor sat down yesterday. We are now following this up with more information on:
pensions
Stamp Duty Land Tax for first time buyers
income tax and National Insurance allowances
trusts
enterprise investment schemes
Pensions
The standard lifetime allowance will increase in line with inflation to £1,030,000 from 6 April 2018.
Clients who have uncrystallised pension funds close to or over the lifetime allowance will be better off waiting until after 5 April 2018 to take pension benefits.
Example
Amelie's pensions are worth £1.2 million and she has no transitional protection. She decides to take the maximum tax free cash in December 2017. As the standard lifetime allowance is £1 million, the maximum tax free cash available to Amelie is £250,000. £750,000 is designated to flexi access drawdown and £200,000 remains uncrystallised. There is no lifetime allowance charge at this time but Amelie has used 100% of the lifetime allowance.
Amelie will not benefit from the increases in the standard lifetime allowance and the uncrystallised fund will be subject to the lifetime allowance charge when she decides to take benefits from it, at age 75 or if she dies before age 75.
If Amelie waits until 6 April 2018 to crystallise £1 million then she will have used 97.08% of the increased standard lifetime allowance. There will still be a lifetime allowance charge at the time benefits are crystallised if she uses more than the remaining 2.92% of the standard lifetime allowance but less tax will be payable overall.
The increase in the standard lifetime allowance means that if the excess is taken in 2018/2019 as a lump sum then there will be a saving in tax of £16,500 and if it's taken as income then there is a saving in tax of £7500.
As the standard lifetime allowance increases this potential tax saving will also increase if Amelie does not crystallise the remaining fund.
Stamp Duty Land Tax (SDLT) for First Time Buyers
New rates of SDLT are being introduced for first time buyers from 22 November 2018.
From 22 November 2017 first time buyers paying £300,000 or less for a residential property will pay no SDLT.
First time buyers paying between £300,000 and £500,000 will pay SDLT at 5% on the amount of the purchase price in excess of £300,000.
First time buyers purchasing property for more than £500,000 will pay SDLT at the standard rates.
A first time buyer is someone who has never owned an interest in a residential property in the UK or anywhere else in the world and who intends to occupy the property as their main residence.
The relief must be claimed in an SDLT return.
This will not apply in Scotland and will apply in Wales until 1 April 2018 when SDLT is devolved to Wales.
SDLT rates from 22 November 2017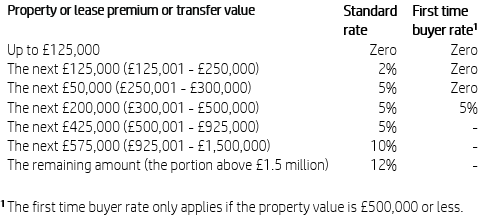 Income tax and National Insurance (NI) Allowances
Income tax and NI allowances are increasing broadly in line with inflation from 6 April 2018.
The income tax personal allowance will be £11,850 in 2018/2019 and the higher rate threshold will be set at £46,350.
There is no change in the income limit for personal allowance which remains at £100,000 or the additional rate threshold which will continue to be £150,000.
More details of the rates and allowances for 2018/2019 can be found here.
Trusts
There will be a consultation in 2018 on the taxation of trusts.
The aim is to make trust taxation simpler, fairer, and more transparent. No details of how this will be achieved have been released.
Enterprise Investment Schemes (EISs)
The annual limit for investing in EISs will increase to £2 million from 6 April 2018.
This depends on any investment amount above £1 million being invested in knowledge-intensive companies. If there is no investment in knowledge-intensive companies the limit will remain £1 million.
Tax motivated investments into EISs, seed enterprise investment schemes (SEISs) and venture capital trusts are to be excluded from tax relief.
From 6 April 2018 tax relief will not be allowed where it provides most of the return to an investor with little risk to the original capital invested.
Should you have any queries please do not hesitate to contact Jonathan Kelly on 020 8681 4994.
Tags: Budget 2017